Founded more than 10 years ago, Supreme Roasters is a local Gold Coast business and boasts a long history of providing customers with the highest quality specialty coffee, personalised service, and all-round support.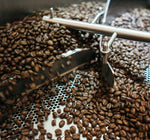 With a focus on creating successful partnerships we have curated a portfolio of established cafés across Queensland.
From Burleigh to Northern Queensland they work with cafés and wholesalers to deliver exceptional coffee.
"We strive to be more than just a supplier of speciality coffee to our customers and aim to build prosperous relationships that help our customers grow and realise their full potential. 
Our ability to produce consistently great coffee begins with our attention to detail when it comes to selecting green beans.
Each of our blends consists of carefully selected beans from various coffee-producing regions around the world. Our priority is to responsibly source green beans that, when blended, enhance the subtleties of each bean to create a unique blend".