MB Coffee & Co is a Melbourne based, family driven business that has over 15 years of experience in the hospitality industry!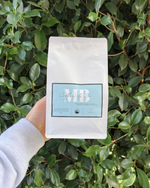 They are passionate about all things coffee and pride themselves on a quality driven approach to roasting, coffee consistency and customer service.
"We started MB Coffee & Co with the vision of providing everyone with cafe quality coffee at home; as we be believe that spending more time at home shouldn't mean you have to miss out on great coffee."
After years of managing various hospitality venues, the team finally decided it was time to take the leap and expand with their own brand within the specialty coffee industry. 
"We know great coffee and pride ourselves on our ability to build relationships with our customers and partners and are excited to work alongside some amazing businesses in the industry who continue to hustle hard."