Based in Sydney's South West, Goliath Coffee Roasters are a small family run specialty coffee roaster.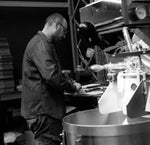 They aim to help cafes and coffee lovers all over Australia by "delivering the best coffee experience in every cup, every single time."
Founders David and Clarissa drew on 18 years of working in cafes, restaurants and coffee roasteries, David took a leap and decided it was time to take all he had learned to kickstart his own coffee roastery. And so, in 2013, Goliath Coffee Roasters was born. Fast forward five years, we outgrew our first small roastery and found a new space in Western Sydney to call home. It made perfect sense to plant ourselves in the place in which we both grew up!
Roasting on the first Loring Roaster to land in Sydney, they roast fresh every week. 
"Having worked in cafes and with cafe owners and baristas, we've learned that outstanding coffee not only begins with a high-quality roast, but also with the tools, training and support to take it to the next level. And whilst it's important to us to always be chasing the best flavour profiles, we enjoy building relationships with our customers over our common love of great coffee… and a good chat.
Above all else, we want to make specialty coffee simple so that everyone can enjoy freshly roasted, great tasting, awesome quality coffee all the time."
The team is roasting on the Loring roaster. Loring uses a patented closed loop convection heat system that incinerates all smoke from the drum and exhaust, making our coffees the cleanest they could possibly taste, whilst reducing emissions to almost zero and increasing gas efficiency by 80 per cent.
"Our Loring roaster is unmatched in its ability to match profiles batch to batch, day in and day out. Our coffee is roasted, blended and packed every week to deliver the freshest and tastiest coffee possible."