Full Circle Roasters is founded and run by Lachlan himself. A small batch coffee roaster based in Wagga Wagga.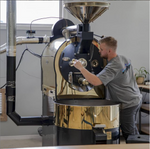 The name of the roastery comes from his roasting location. Coffee roasting in Wagga Wagga began about 20 years ago but left for some time.
In the very same warehouse it began, Lachlan has resumed the craft of coffee roasting, hence the name Full Circle. With over 8 years of cafe experience Lachlan felt like roasting was the next natural step. From converting an old breadmaker into a makeshift home coffee roaster for fun to now roasting everyday on his Toper roaster, Lachlan is dedicated to creating quality brews. 
"I've Definitely had a passion for coffee, and it would be hard to get rid of. It's always really nice when people compliment the coffee you've made for them, but it's even more rewarding when you've done the extra step and done the whole roasting process, even if they don't know that." 
Full Circle Roasters continue to showcase their tasty coffee's and the appreciation for the coffee roasting craft.