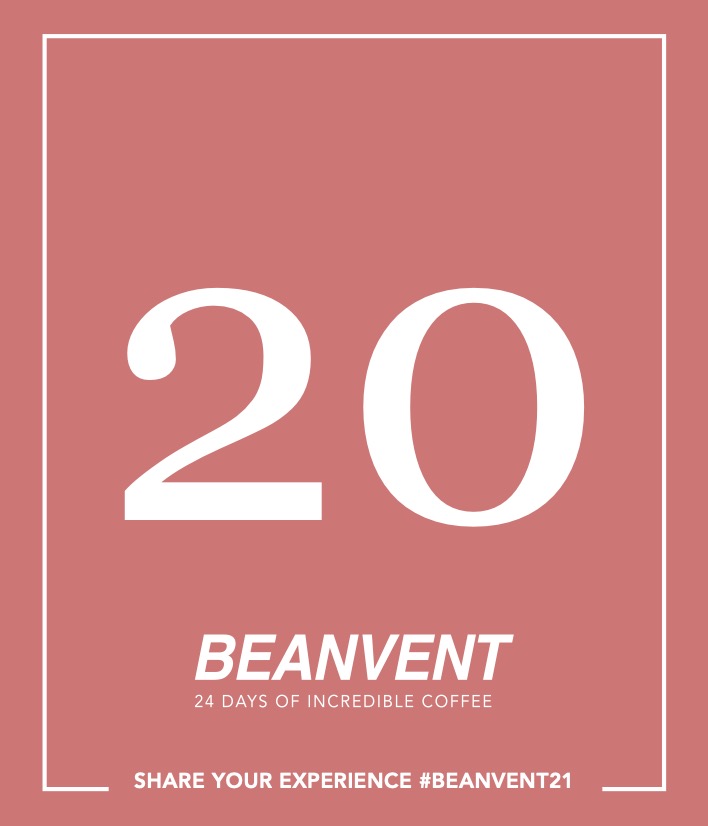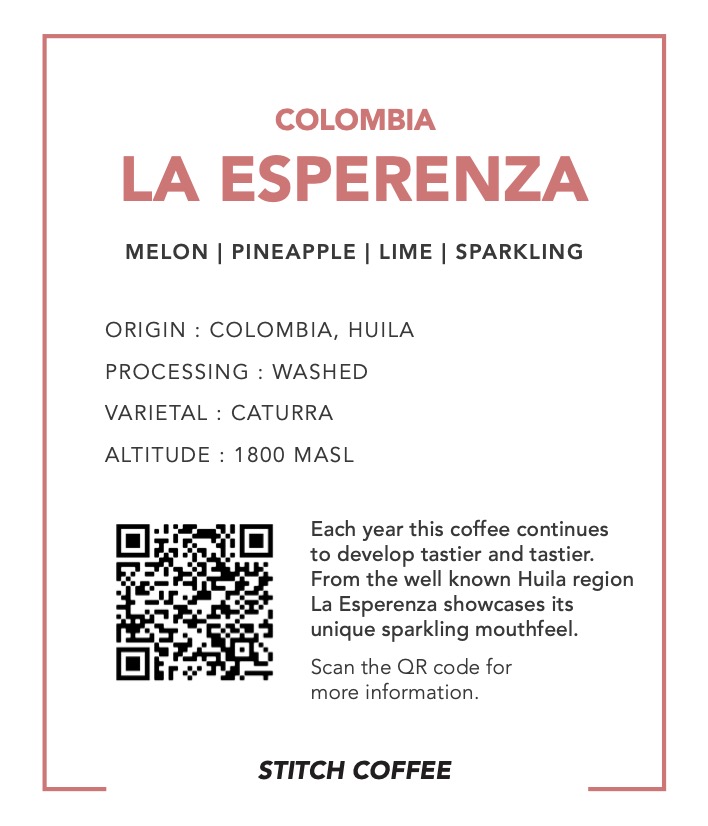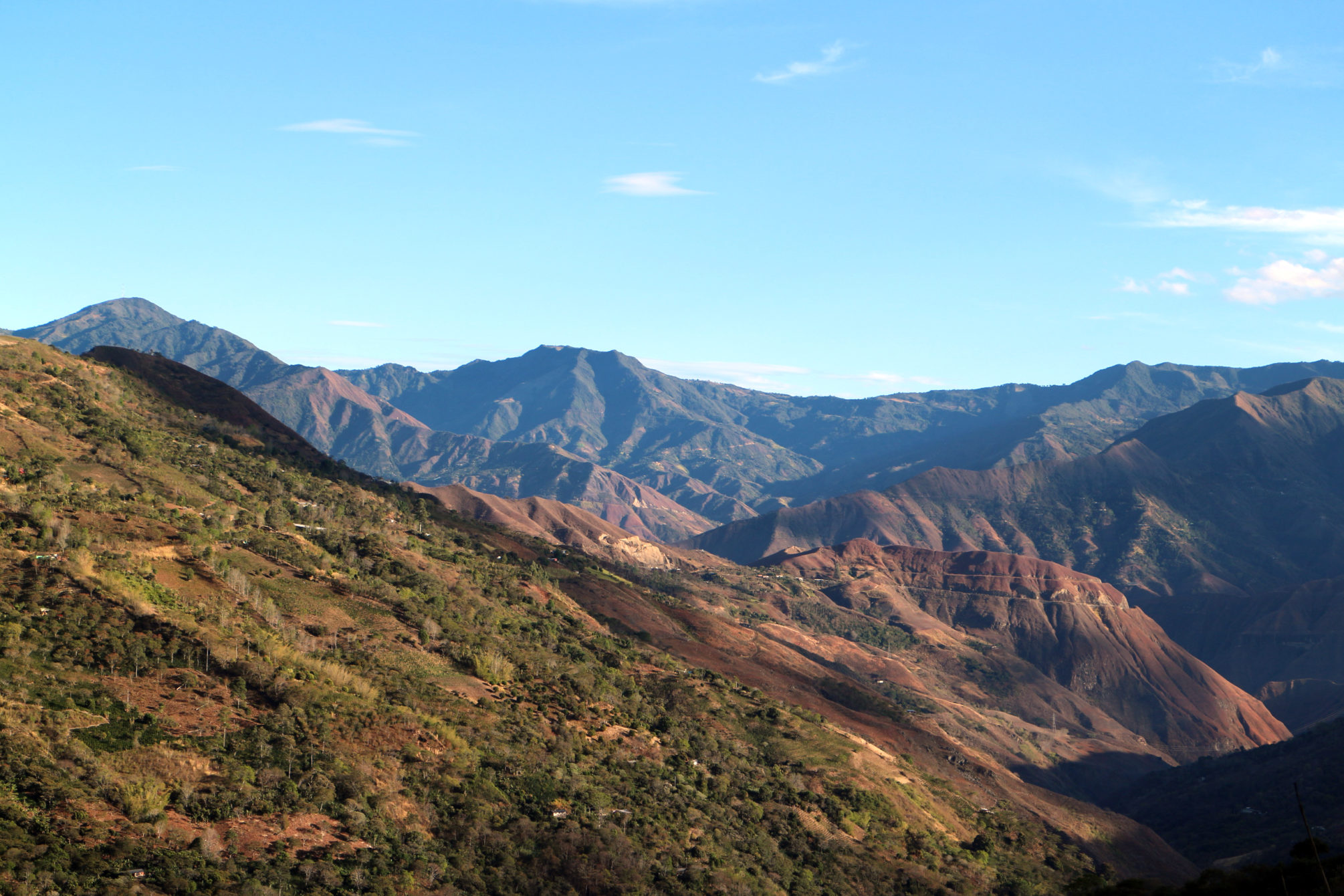 ABOUT THIS COFFEE
La Esperanza is a small four hectare farm located in the village of Palestina, in the municipality of La Plata, Huila. This growing region has all of the conditions to produce exceptional coffee, with high elevations, rich soil, plenty of consistent rainfall, and cool temperatures. However, it is the craftsmanship, diligence and dedication of the farmers themselves and their commitment to quality that sets the best coffees and producers from this region above the rest.
La Esperanza and its owner Guillermo Mompotes are a fine example of this. Guillermo has managed La Esperanza for more than 25 years after taking over the management of the farm from his parents and lives on the farm with his wife and sons. The entire family works on the farm (almost nothing is contracted out), which leads to very thorough management practices and incredible pride of the final product—which becomes, itself, an extension of the family.
Guillermo is dedicated to producing the very best coffee he can. He dreams to buy more land in the future and expand his operation.
LA ESPERANZA AND INCONEXUS
Guillermo along with other farmers in the region, is supported by our export partner, InConexus. They work with small farms in Tolima to achieve the highest standards possible, with sustainability and quality at the forefront.
InConexus play an important role in connecting tiny producers like Edier with buyers like MCM encouraging long term relationships to flourish. Their goal is to improve the economic, environmental and social situation of their producing partners, whilst also increasing their quality, sustainability efforts, and inclusivity initiatives at a farm level.
By developing and nurturing partnerships throughout the supply chain, InConexus believes that entire communities can be empowered. Individual growers can be encouraged to become better business owners, which in turn will result in higher quality coffees, improved market access and ultimately increased income and more sustainable and healthy livelihoods. We are proud to partner with InConexus and believe wholeheartedly in their mission. If the quality of Guillermo's coffee is any indication of the potential of coffees from this region, this partnership is truly making a difference.
ABOUT HUILA
The department of Huila is located in the southwest of Colombia. This region is renowned for the quality of its coffee, and in 2013 it received the Denomination of Origin status. It is one of the largest coffee-producing regions in the country, however the size of coffee farms is overwhelmingly small-scale, with most farmers owning on average just 1.5 hectares of land. Alongside coffee they also grow rice, raise cattle, and farm fish.
This coffee comes from the municipality of La Plata in the south of Huila. "La Plata" translates to "The Silver" and reflects back to the time when the Spanish arrived to the region and opened a number of silver mines.
HOW THIS COFFEE WAS PROCESSED
This coffee was processed using the washed method at La Esperanza's 'micro-beneficio'. The coffee was pulped using a small manual or electric pulper, and then placed into a fermentation tank, where it was fermented for up to 12–19 hours (depending on the weather).
They were then carefully dried (over 7–14 days) – typically on parabolic beds, which are constructed a bit like a 'hoop house' greenhouse, that act to protect the coffee from the rain and prevent condensation dripping back onto the drying beans. These beds have adjustable walls to help with air flow, and temperature control to ensure the coffee can dry slowly and evenly.

ABOUT THIS ROASTER
STITCH COFFEE was born of an idea that coffee is much like a tapestry - it is a weaving of origins and flavours to create a delicious cup.
Nawar Adra, owner of Stitch Coffee, had humble beginnings working as a barista in the iconic Western Suburbs cafe, Circa Espresso. Nawar started his roasting journey with Circa when they purchased their very own Probat P5 to roast their own. While working for them, they focused heavily on single origins only, however, as years passed Nawar realised there was an artistry behind the blending of origins. This merging of origins created a cup with distinct complexity, structure and balance, this concept gave birth to Stitch Coffee. We opened the doors to our roastery in 2015 and haven't looked back.
Today we are a company heavily focused on creating connections through coffee, from green bean importers, to everyday coffee drinkers and everyone in between. We assist cafes in up-skilling their baristas and teams, teaching them how to extract the perfect espresso and brew a delicious pour-over. Our love for coffee is fed by the daily home brewers and the cafes that serve our coffee. We continue to source coffee ethically from around the world and ensure that we have the ability to communicate this with our community. We are continuously evolving our buying practises and fostering relationships with importers and farmers to ensure a healthy future for coffee.
OUR TEAM
A team built on diversity…
Our team is built upon a shared love for the world's favourite beverage (FYI its coffee, though we do have a tea advocate amongst us) and a strong set of values. We're a culmination of unique individuals with diverse backgrounds from across the globe, but we share our common principle, 'coffee is better together'. And our hope is to use coffee as connect people and places. Coffee breaks down boundaries and unites us in one common phrase between friends, neighbours and strangers.